SAUTER Vision Center
YZP 480...495
Central building management and visualisation of decentralised installations
SAUTER Vision Center (SVC) is a web-based building management solution in the HTML5 standard for running and visualising the building operation. SVC is suitable for both larger single buildings and entire real estate parks or distributed premises.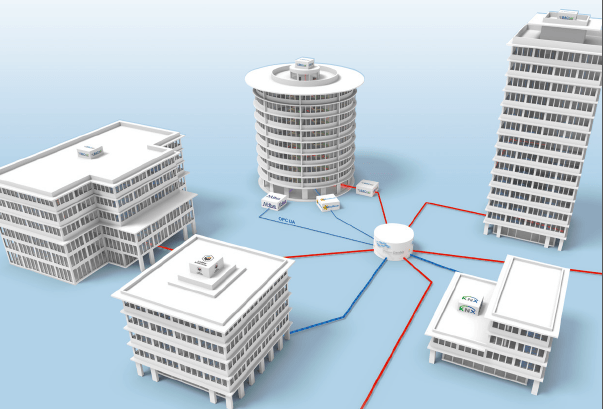 Typical areas of use are office complexes, business parks, college and industrial campuses, airports, railway stations, hospitals or internationally distributed branch networks. The modular concept allows the software to be extended precisely to meet the customer requirements of every installation. Therefore, SVC gathers all of the data for the entire building and energy management and makes it available to the user from anywhere at all times.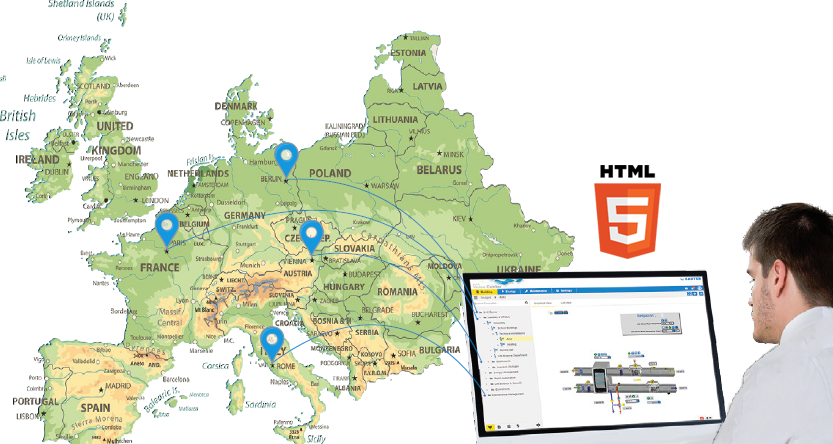 Features
For the integration of individual equipment systems, SAUTER Vision Center supports the manufacturer-independent BACnet standard (B-AWS certified), as well as connection to OPC servers for integrating different protocols in the building automation. In order to fully support the integration options, it is also possible to directly connect SAUTER moduWeb Vision via web services and SAUTER novaNet installations. This makes it possible to connect existing systems when converting to the new generation of building management software without having to replace the existing automation level.



SAUTER Vision Center sends alarms directly via e-mail or text message to mobile phones according to the responsibilities assigned. With its many user-defined settings in customisable dashboards, SAUTER Vision Center guarantees maximum user convenience.



The energy monitoring module integrates energy meters and other data from the buildings to create a comprehensive energy consumption display. Thus, daily, weekly, monthly and annual consumption can be automatically calculated and represented in diagrams. The maintenance module for SAUTER Vision Center is also used for the optimum planning and efficient execution of servicing and FM tasks. Here support is also provided by plant device data capture, the definition of maintenance intervals and the automatic triggering of maintenance cycles based on building management information. This enables complete concentration on the monitoring and evaluation of the installations, as well as their continuous and optimum operation, and contributes to efficient, sustainable building and energy management. SAUTER Vision Center can be deployed in virtual IT environments and uses Microsoft SQL databases. These modern architectures and infrastructures enable topics such as high availability, redundancy via cluster systems and corresponding load assignments (provisioning) to be implemented and used. (Scalable via MS SQL Express up to SQL Enterprise depending on the specified properties, virtual IT environments and high-availability VMware & SQL Enterprise.)


Types
YZP481F220
S.
­
V.
­
C.
­
­
10000
­
additional
­
Objects
­
with
­
maintenance
­
YZP481F210
S.
­
V.
­
C.
­
­
1000
­
additional
­
Objects
­
with
­
maintenance
­
YZP481F200
S.
­
V.
­
C.
­
­
100
­
additional
­
Objects
­
with
­
maintenance
­
YZP480F200
S.
­
V.
­
C
­
Basic
­
package
­
maintenance
­
YZP480F999
S.
­
V.
­
C
­
Engineering
­
license
­
with
­
maintenance
­
YZP481F230
S.
­
V.
­
C.
­
­
25000
­
additional
­
Objects
­
with
­
maintenance
­
Product search
Product range

Cancel selection
ON/OFF controllers
Sensors and transducers
Stand-alone controller
Electric drives, control valves, butterfly valves
Pneumatics
Pneumatic drives, valves
Building Management System
Cloud Services
Product family

Cancel selection
Thermostats
Frost monitors
Pressure switches
Humidistats
Product group

Cancel selection
Room thermostat
Fan-coil room-temperature controller, electromechanical
Fan-coil room-temperature controller, heating/cooling sequence
Fan-coil room-temperature controller, with digital display
Universal thermostat
Product group

Cancel selection
Continuous frost monitor with capillary sensor
Frost monitor/limiter with capillary sensor
Product group

Cancel selection
Heavy-duty pressure switch
Pressure switch
Pressure monitors and pressure switches
Specially designed pressure limiter
Differential pressure switch
Product group

Cancel selection
Room humidistat
Panel-mounted humidistat (packing unit: 50 pieces)
Duct-mounted humidistat
Product family

Cancel selection
Temperature
Flow, VAV
Pressure, differential pressure
Humidity
Air quality, AIQ, Other values
Thermowells
Product group

Cancel selection
Cable temperature sensor
Duct temperature sensor
Outdoor temperature sensor
Clamp-on temperature sensor
Room-temperature sensor, surface-mounted
Room temperature sensor, recessed
Product group

Cancel selection
Air-flow transducer
Differential pressure transducer
Flow probe for ventilation ducts
Product group

Cancel selection
Differential pressure transmitter
Pressure transmitter
Product group

Cancel selection
Dew point monitor and transducer
Duct transducer, enthalpy
Duct transducer, relative humidity and temperature
Room transducer, relative humidity and temperature
 Room transducer, relative humidity and temperature, recessed
Product group

Cancel selection
Sash sensor
Duct transducer, air quality (VOC)
Room transducer, air quality, surface-mounted
Duct transducer, CO2 and temperature
Room transducer, CO2, surface-mounted
Room transducer, CO2, recessed
Product group

Cancel selection
Thermowells
Product family

Cancel selection
equiflex and VAV
equitherm heating controllers
Intelligent unitary control for underfloor heating
flexotron controllers for ventilation and a/c
Product group

Cancel selection
Electronic air-conditioning controller, heating/cooling, equiflex
Fume-cupboard indicator and monitor
Electronic air-conditioning controller for 6-way ball valve, heating/cooling
Product group

Cancel selection
Heating controller with digital user interface, equitherm
Heating and district heating controller, equitherm
Heating and district heating controller, equitherm
Product group

Cancel selection
Bi-directional wireless controller 868 MHz
Electronic room operating unit, 868 MHz
Electronic room thermostat with radio transmission
Electric distributor for control signals
Electronic room thermostat for heating and heating/cooling
Electronic room thermostat for heating and heating/cooling with display
Electric distributor for positioning signals
Product group

Cancel selection
Electronic controller for simple applications, flexotron400
Setpoint potentiometer
Active potentiometer
Switching unit
Electronic power control unit
Universal Contr. flexotron800 V2
Product family

Cancel selection
Electric drives
VAV compact controllers
Butterfly valvesmixing valves
Unit valves and drives
Regulating valves combined with drive
2-way regulating valve for dynamic hydronic balancing, PN 25, Valveco compact
6-way ball valves
Product group

Cancel selection
Damper actuator
Damper actuator with SAUTER Universal Technology (SUT)
Damper actuator
Damper actuator with spring return
Damper actuator with spring return and positioner
Damper actuator with spring return
Damper actuator with spring return and positioner
Damper actuator
Damper actuator with SAUTER Universal Technology (SUT)
High-speed damper actuator with SAUTER Universal Technology (SUT)
Rotary actuator
Rotary actuator with positioner
Motorised actuator
Motorised actuator with positioner
Valve actuator
Valve actuator with SAUTER Universal Technology (SUT)
Rotary actuator for ball valve
Rotary actuator with SAUTER Universal Technology (SUT) for ball valve
Valve actuator with spring return
SUT valve actuator with spring return
High-speed rotary actuator with SAUTER Universal Technology (SUT) for ball valve
Rotary actuator with spring return for control ball valves
Rotary actuator with spring return and positioner
Valve actuator
Valve actuator
SUT valve actuator with positioner
SUT valve actuator with spring return
SUT valve actuator with safety function
Retrofit actuator
Retrofit actuator
Valve actuator
Valve actuator with SAUTER Universal Technology (SUT)
Product group

Cancel selection
VAV compact controller for laboratory and pharmaceutical applications
VAV compact controller
Product group

Cancel selection
Tight-sealing butterfly valve, PN 16
Control valve with flange connection, PN 6
Control valve with threaded connection, PN 10
Product group

Cancel selection
3-way unit valve, PN 16
2-way valve, PN16
3-way unit valve, PN 16
Motorised actuator for unit valves
Motorised actuator for unit valves with positioner
Thermal actuator for unit valves with stroke indicator
Continuous actuator for unit valves, with stroke indicator
2-way valve, PN 16
3-way unit valve, PN 16 (el.)
Product group

Cancel selection
2-way regulating ball valve with female thread, PN 40
3-way regulating ball valve with female thread, PN 40
2-way valve with male thread, PN 16
3-way valve with male thread, PN 16
2-way flanged valve, PN 6 (el.)
3-way flanged valve, PN 6 (el.)
2-way flanged valve, PN 16/10 (el.)
3-way flanged valve, PN 16/10 (el.)
2-way flanged valve, PN 25/16 (el.)
3-way flanged valve, PN 25/16 (el.)
Pressure-relieved 2-way flanged valve, PN 25 (el.)
2-way flanged valve, PN 40 (el.)
3-way flanged valve, PN 40 (el.)
2-way valve with female thread, PN 16 (el.)
3-way valve with female thread, PN 16 (el.)
2-way flanged valve, PN 6
3-way flanged valve, PN 6
2-way flanged valve, PN 16
3-way flanged valve, PN 16
3-way change-over ball valve (L) with female thread, PN 40
3-way change-over ball valve (T) with female thread, PN 40
2-way cut-off ball valve with female thread, PN 40
2-way regulating ball valve with male thread, PN 40
3-way regulating ball valve with male thread, PN 40
3-way change-over ball valve (T) with male thread, PN 40
2-way cut-off ball valve with male thread, PN 40
Product group

Cancel selection
2-way regulating valve for dynamic hydronic balancing, PN 25, Valveco compact
Dynamic flow control system with 6-way ball valve, eValveco
Dynamic flow control system with 2-way or 3-way valve and energy monitoring, eValveco
Product group

Cancel selection
6-way ball valve with male thread, PN 16
Product family

Cancel selection
Installationof pneumatic systems
Relays and magnetic valves
Individual-room controlsystems, VAV
centair controller system
Accessories
Product group

Cancel selection
Instructions for pneumatic plants
Product group

Cancel selection
Averaging relay
Electropneumatic relay
Product group

Cancel selection
Pneumatic room-temperature controller
Pneum. duct-temperature controller
Pneumatic volume-flow controller
Pneumatic volume-flow controller
Pneumatic room-pressure controllers
Pneumatic air-volume transducer
Dual-channel air-volume controller
Air-volume adding relay
Product group

Cancel selection
PI-controller
P-controller
P+PI cascade controller
Damper control unit
P-controller
Pneumatic temperature transducer for duct fitting, centair
Room-temperature transducer
Average-temperature transducer
Outdoor-temperature transducer
Pneumatic humidity transducer for wall fitting
Pneumatic humidity transducer for duct fitting
Differential pressure controller/transducer, centair
Manometer for indicating measured values
Product group

Cancel selection
e/p and p/e converter
Pneumatic manual switch
Pneum. control-pressure adjuster (small cap.)
Heavy-duty, pneumatic control-pressure
Time-lag relay
Pneumatic line restrictor
Pressure-reducing station
Pieces for push-on pneum. meas. lines
Material for pneumatic equipment
Pneumatic relay, pluggable
Product family

Cancel selection
Pneumatic drives
Regulating valves combined with drive
Accessories
Product group

Cancel selection
Pneumatic actuator
Pneumatic actuator
Pneumatic valve actuator
Pneumatic valve actuators
Product group

Cancel selection
2-way flanged valve, PN 6 (pn.)
3-way flanged valve, PN 6 (pn.)
2-way flanged valve, PN 16/10 (pn.)
3-way flanged valve, PN 16/10 (pn.)
2-way flanged valve, PN 25/16 (pn.)
3-way flanged valve, PN 25/16 (pn.)
Pressure-relieved 2-way flanged valve, PN 25 (pn.)
2-way valve with female thread, PN 16 (pn.)
3-way valve with female thread, PN 16 (pn.)
3-way flanged valve, PN 40 (pn.)
2-way flanged valve, PN 40 (pn.)
Product group

Cancel selection
Pneumatic positioner
Position alarm/transmitter
Product family

Cancel selection
Engineering (CASE)
HVAC automation
Operation and indication
Room automation
Communication and networks
System integration
Managment level (software)
HVAC automation modulo 6
Product group

Cancel selection
CASE Suite
Product group

Cancel selection
Modular automation station, modu524/525
I/O module, digital and universal inputs, modu530
I/O module, digital inputs, modu531
I/O module, universal inputs, modu532
I/O module, universal, digital, S0 inputs, modu533
I/O module, digital outputs (relays), modu550
I/O module, digital outputs (open collector), modu551
I/O module, analogue outputs and universal inputs, modu570
I/O module, digital inputs/outputs (open collector), modu571
I/O module, analogue outputs, universal and digital inputs, modu572
Local operating and indicating units, modu625...670
Field module for digital inputs, moduLink174
Field module for analogue outputs 0...10 V (0...20 mA), moduLink170
Field module for digital outputs 0-I-II, moduLink165
Field module for digital outputs 0-I, moduLink164
Universal controller, moduFlex
I/O module, analogue inputs with galvanic isolation, modu534
novaLink module, modu590
Product group

Cancel selection
Local operating unit, modu840
Local operating unit, modu240
Product group

Cancel selection
Wireless interface, ecoMod580
Push-button unit for room operating unit, ecoUnit306
Room operating unit, ecoUnit341...346
Room operating unit, ecoUnit310...316
Frame for device inserts with 55 × 55 mm fitting dimensions
Remote I/O module, ecoLink510...512
Remote I/O module, ecoLink520, 521, 526
Room automation station, ecos500
Room automation station, ecos502
Room controller, ecos301, 302
Room operating unit, ecoUnit241...246
Room operating unit, ecoUnit210...216
DDC single-room controller, ecos200
DDC single-room controller, ecos202
Room operating unit ecoUnit 382 for ecos301/302
Remote I/O module, ecoLink522, 523
Room operating unit with EnOcean wireless technology, ecoUnit110...146
Push-button unit for room operating unit with radio technology, ecoUnit106
Room automation station, ecos504/505
Power supply unit
Touch room operating unit, ecoUnit365
Remote I/O module, ecoLink514, 515
Remote I/O module, ecoLink527
Programmable controller, ecos311
Push-button unit for room operating unit, ecoUnit358
Room operating unit, ecoUnit355
Product group

Cancel selection
Web server for moduWeb Vision and moduWeb500 BACnet networks
novaNet-BACnet application master, moduNet300
novaNet-Ethernet interface, moduNet292
Router, novaNet291
OPC server
Energy Data Logger for EMS
Energy Data Logger for EMS
Energy Data Logger für EMS
Product group

Cancel selection
Communication module with EIA-232 and EIA-485 interfaces, modu721
Communication module with M-Bus and EIA-232 interfaces, modu731
Product group

Cancel selection
SAUTER EMS and EMS Mobile
SAUTER Vision Center
SAUTER EMSV.4
Product group

Cancel selection
Module for separated I/O module supply, modu601‑LC
Coupling kit for I/O modules in cabinet, modu602‑LC
Modular BACnet automation station and web server, modu680-AS
16 x DI/CI inputs I/O module, modu630-IO
8 x UI (DI/CI/AI) and 8 x DI/CI I/O module, modu631‑IO
6 x relay (2A) outputs I/O module, modu650‑IO
8 x DI/CI/DO (OC) and 8 x DI/CI I/O module, modu670‑IO
8 x AO and 8 x DI/CI I/O module, modu671‑IO
Operating and indicating unit for I/O modules, modu600-LO
Product family

Cancel selection
Operation
Product group

Cancel selection
Mobile Building Services (MBS)