8 november 2022 |
media releases
BACnet certification för BACnet VAV ställdon
The VAV compact controller[1] has received the BACnet certification B-ASC (Application-Specific Controller). This puts it among numerous products, solutions and services from SAUTER that have already received certifications and awards.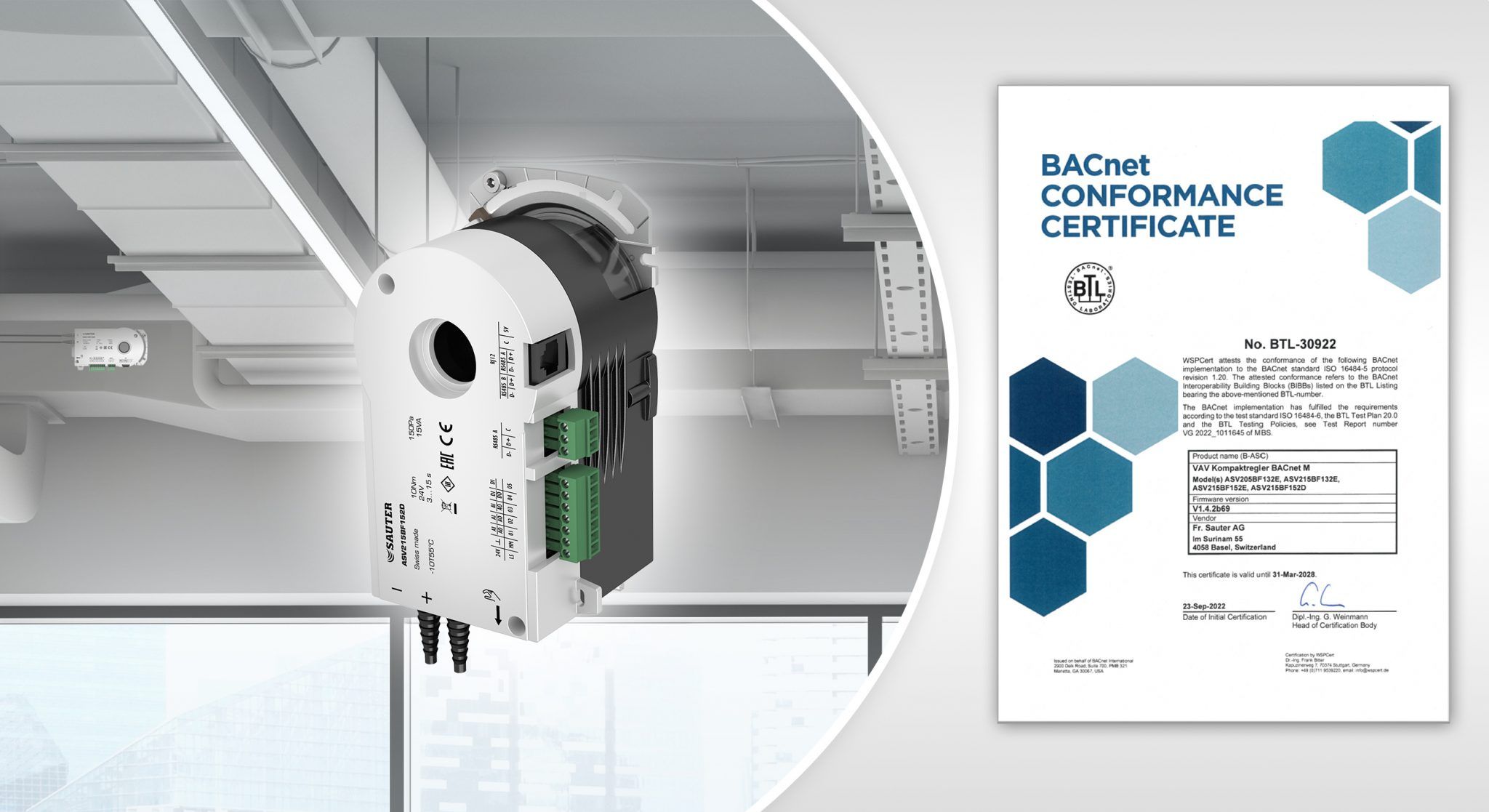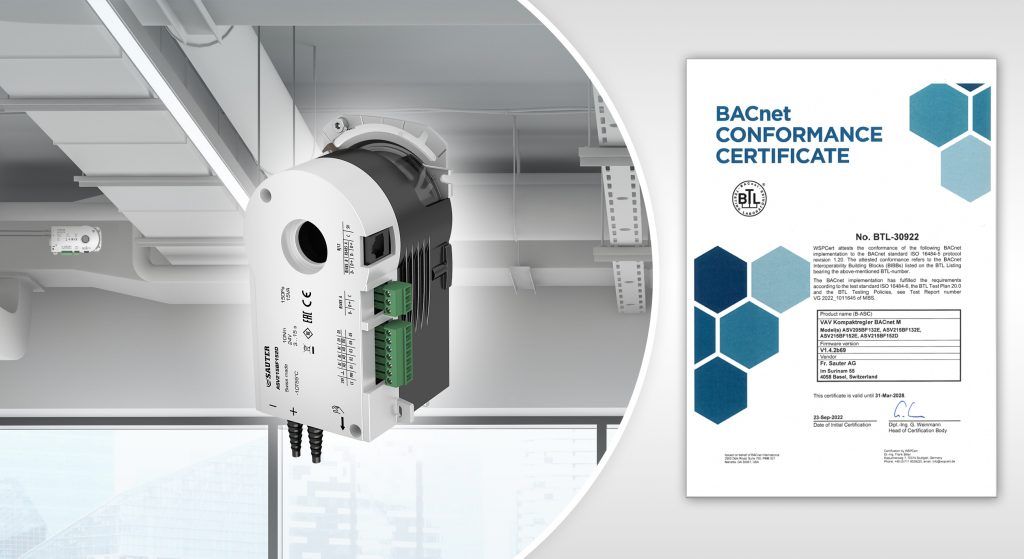 The VAV compact controller regulates the flow rate according to demand in order to optimise energy consumption in ventilation systems.
Among its many features, the controller has special functions for fast and stable control of critical applications in laboratory environments, in the pharmaceutical industry, and in commercial applications with recooling and/or reheating functions.
The main advantages of the compact controller are:
Pressure control in supply and return air ducts for low-noise and energy-optimised air distribution
Static differential pressure measurement, including for areas with polluted or contaminated return air
Integrated second control loop for the following applications:

Duct pressure and zone control
Room climate regulation (type ASV2x5BF132)
Room pressure control
Fume cupboard control, e.g. in the pharmaceutical sector (type ASV215BF152)
An all-round solution for optimum safety, comfort and efficiency in ventilation systems
Two versions of the VAV compact controller from SAUTER are available. The first has an actuator which runs for between 60 and 120 seconds for general demand-led air conditioning applications, while the other has an actuator that runs for between 3 and 15 seconds for fast and precise control of room pressure and fume cupboards.
The microprocessor-based controller allows variable and individual control of the air volume depending on its setpoint. All the necessary information can be monitored via a BACnet MS/TP network. The special CASE VAV software is used to configure the application and to control the volume flow, room pressure, fume cupboard and duct pressure.
BACnet certification
Building users do not notice BACnet, but for the technology and the devices in the field of building and room automation, there is no way around the BACnet standard. It has become the most important communication protocol in the industry. Simply put, the protocol defines the rules for the data exchange between individual HVAC and building automation devices. The certification programme of the BACnet Testing Laboratories (BTL) issues products with a certificate of conformity (i.e. inclusion in the BTL list). This certificate confirms that the documented functional scope complies with the standard, and it carries the BTL logo. All BTL-certified products from SAUTER are officially registered on the following website: https://bacnetinternational.net/btl
About SAUTER
As the leading provider of solutions for building automation technology in Green Buildings, SAUTER ensures good climate conditions and a sense of well-being in sustainable environments. SAUTER is a specialist in developing, producing and marketing products and systems for energy-efficient total solutions and offers a comprehensive range of services to ensure the energy-optimised operation of buildings. Our products, solutions and services enable high energy efficiency throughout the entire life-cycle of a building – from planning and construction through to operation – in office and administrative buildings, research and educational facilities, hospitals, industrial buildings and laboratories, airports, leisure facilities, hotels and data centres. With over 100 years' experience and a track record of technological expertise, SAUTER is a proven system integrator that stands for continuous innovation and Swiss quality. SAUTER provides users and operators with an overview of energy flows and consumption, and therefore of the development of the costs involved.
The SAUTER Group
Company active worldwide with headquarters in Basel, Switzerland
Founded in 1910, it is built on more than 100 years of tradition and experience
With more than 3,300 employees, it is present and active globally
Complete building management solutions from a single source
Focus: maximum energy efficiency and sustainability
Investment protection and operational reliability over the entire building life-cycle
Technology leader in the building automation and system integration sector
Excellent references available at sauter-controls.com
[1] Models ASV205BF132E, ASV215BF132E, ASV215BF152E and ASV215BF152D